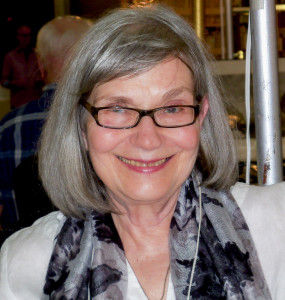 Here's some more information about me and my writing.
I've published articles and short stories, some of which have appeared in Sinister Wisdom, The NWSA Journal, The Journal of the Short Story in English, The North Atlantic Review, and other journals. I wrote some plays also, one about Shakespeare and Emilia, and the other about Christopher Marlowe.
In my former life as an academic, I published journal articles and taught writing, English and world literature, and women's studies. I hold a B.A. and M.A. in English and a Ph.D. in Comparative Literature concentrating on Renaissance (early modern) literature. Studying about Shakespeare and other Elizabethan and Jacobean authors gave me an enduring fascination with the Early Modern period.
In 2009, I retired from Georgia State University's Women's Studies Institute where I taught and served as program administrator. Since retirement, I spend my time writing, doing community work, digging in my garden, and selling books with my wife Libby Ware, a writer and antiquarian bookseller.
I belong to a writers' group that I helped found, and I have attended Carol Lee Lorenzo's writing classes and Fiction Intensives workshops and Rosemary Daniell's Zona Rosa workshops. I belong to the Atlanta Writers Club and the Georgia Writers Association. I am a Fellow of the Hambidge Center for the Arts and held a residency at the Wurlitzer Foundation of New Mexico. I'm a member of the First Existentialist Congregation (UUA) of Atlanta where I help arrange for guest speakers and edit the monthly newsletter. I live in Atlanta a mile from my wife Libby Ware.
Read More